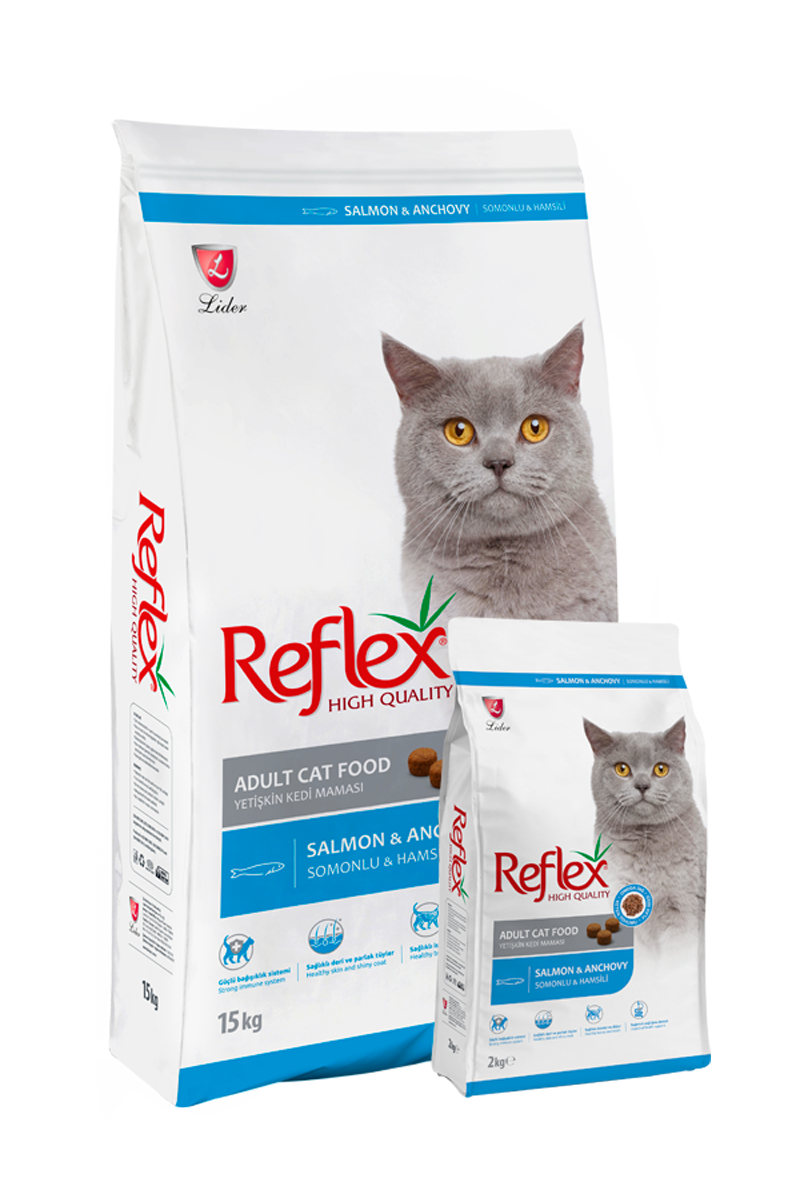 Reflex Adult Cat Food with Anchovy
Anchovy 1,5 - 15 kg
Ingredients: Processed Animal Protein, Wheat, Corn, Rice, Animal Fat, Wheat Bran, Processed Anchovy Protein, Corn Gluten, Dried Sugar Beet, Anchovy Oil, Fish Flavor, Salt, Flaxseed, Dry Brewer's Yeast, Taurine, Mos (Mannan- Oligosaccharides), Beta Glucan, Yucca, Quillaja.

Minerals: Calcium, Phosphorus, Sodium, Iodine, Zinc, Copper, Potassium Chloride, Iron, Selenium.

Vitamins: Vit. A, Vit. D, Vit. E, Vit. C, Vit. B1 - B2 - B3 (Niacin) - B6 - B12 - B7 (Biotin) - B9 (Folic Acid), Vit. K, Choline, Calcium Pantothetan.
Nutrient Components
| | |
| --- | --- |
| Crude Protein  | 33% |
| Crude Fat  | 15% |
| Crude Ash | 8% |
| Crude Cellulose (Fibre) | 3% |
Nutritional Supplements
| | |
| --- | --- |
| Vitamin A (E672) | 18,000 IU/kg |
| Vitamin D3 (E671) | 1,500 IU/kg |
| Vitamin E (3a700) | 200 mg/kg |
| Vitamin C (Stay C) | 200 mg/kg |
| Taurine | 1500 mg/kg |
The recommended daily amount of food may vary depending on the outdoor temperature, your cat's living conditions (indoor/outdoor), character and activity.
In order for your cat to have/maintain the ideal weight, the amount of food to be given should be weighed.
When adjusting the amount of food to be given, your cat's appetite, appearance and stool analysis should be considered.
Switching to a different food should be done gradually, by mixing small amounts of both (old and new) foods over the course of a week.
Always keep clean and fresh water near the food bowl. Even if the water looks clean, change it at least once a day.
Store the product in a dry and cool place and make sure that the package is well closed after each use.
| | | | | | | | |
| --- | --- | --- | --- | --- | --- | --- | --- |
| CAT WEIGHT |  1 - 2 kg | 2 - 3 kg | 3 - 4 kg | 4 - 5 kg | 5 - 6 kg | 6 - 7 kg | 7 - 8 kg |
| GR / DAY | 25 - 35 | 35 - 55 | 55 - 75 | 75 - 90 | 90 - 110 | 110 - 130 | 130 - 145 |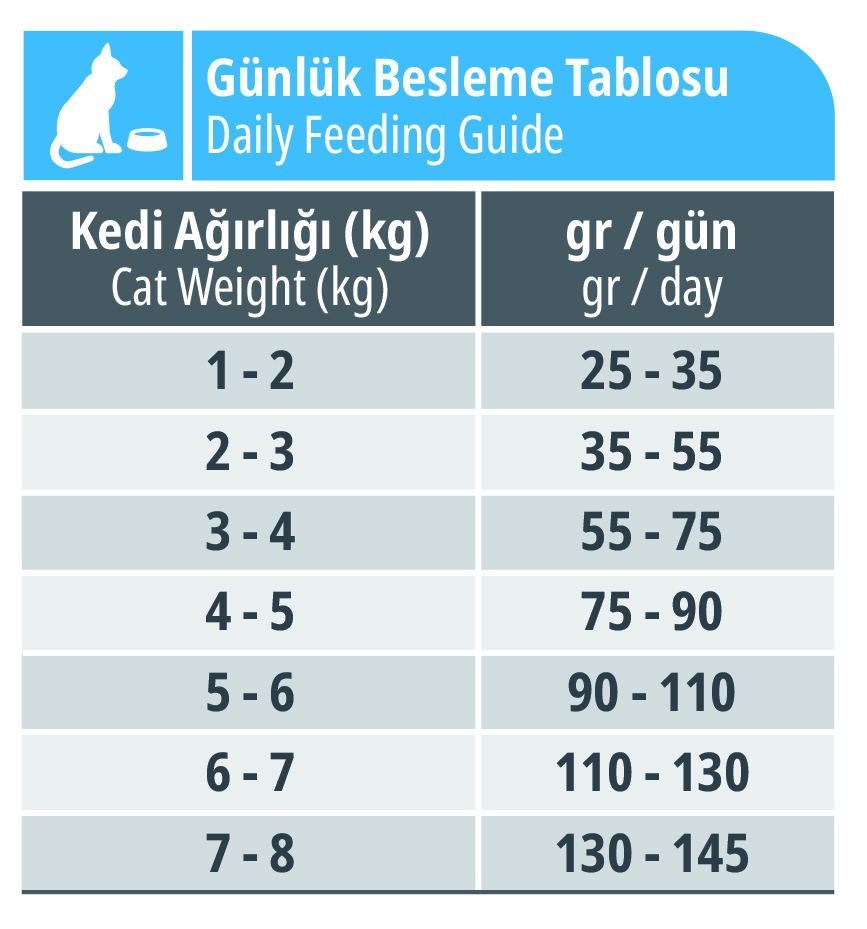 Other Products
Your Lovely Friend Will Love